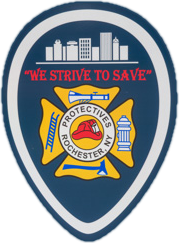 Rochester Protectives
" We Strive To Save"
Upcoming Meetings:
          Thursday June 4th.
2020 Incidents
April Total
17
Structure Fires
12
Multiple Alarms
1
Commercial Water
1
Residential Water
2
No Duty
1
Vent/Fans/Ems
0
2020 YTD Runs: 77
Welcome to the Rochester Protectives!
The Rochester Protectives are one of the few remaining 100% Volunteer Fire Salvage Company's in the U.S. We provide both fire and non-fire salvage services to the City of Rochester, NY.
The Protectives provide assistance to the City of Rochester Firefighters, some of which include: 
Covering or removing property

Recovering family valuables
Providing ventilation through the use of smoke-ejecting fans
Set-up of emergency scene lighting
Pumping out flooded basements
Securing broken windows and doors
Protectives History Books for sale. Hard cover,             290 pages.  $12 plus $8 for shipping.  Shipping can be waived if pickup is arranged.  Send payment to The Rochester Protectives, PO Box 31593, Rochester,      New York 14603