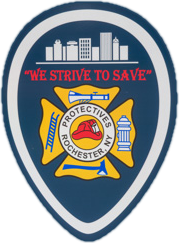 Rochester Protectives
" We Strive To Save"
       Upcoming Meetings:
           Thursday February 3rd                           
2021 Incidents
December Total
30
Structure Fires
16
Multiple Alarms
2
Commercial Water
4
Residential Water
1
No Duty
5
Vent/Fans/Ems/Other
2
2021 YTD Runs: 343
Welcome to the Rochester Protectives!
 The Rochester Protectives are one of the few remaining 100% Volunteer Fire Salvage Company's in the U.S. We provide both fire and non-fire salvage services to the City of Rochester, NY.
The Protectives provide assistance to the City of Rochester Firefighters, some of which include: 
Covering or removing property

Recovering family valuables
Providing ventilation through the use of smoke-ejecting fans
Set-up of emergency scene lighting
Pumping out flooded basements
Securing broken windows and doors
It is with the greatest of sadness that I am reporting that after a courageous fight with cancer, past Chief Mark Kirchgessner has passed away. We will have more details as they emerge. Please keep the Kirchgessners and Protectives family in your thoughts as we get through this difficult time. He was the Protectives and the heart and soul of this Company. R.I.P.  
There will be a "Special" dinner/mini Banquet
at Quarters at the March 3rd meeting, 2022….