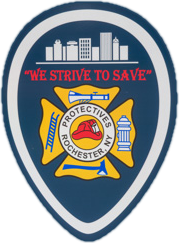 Rochester Protectives
" We Strive To Save"
       Upcoming Meetings:
           Thursday December 2nd     
                     Election Night                                          
2021 Incidents
October  Total
20
Structure Fires
5
Multiple Alarms
2
Commercial Water
4
Residential Water
4
No Duty
4
Vent/Fans/Ems/Other
1
2021 YTD Runs: 290
Thank you for your interest in the Rochester Protectives. It is with great pride and tradition that the Protectives continue to attract applicants full of enthusiasm and good character. The Membership Committee looks forward to meeting with you!
Rochester Protectives Application (pdf)
Recruitment Video